School Journal Listening Post – GitHub
School Journal Listening Post for New Zealand Schools
Over the last couple of years, through teaching Daily 5, I've needed to develop a series of listening activities and read-a-loud books for the students to use. Using a copy of School Journal Listening Post was the sensible option, though because this is no longer available, I had to develop our own version for our school.
Over the year however, I had many calls and requests for copies of this. Being an advocate for Open Source wherever possible, I decided to make this School Journal Listening Post free to download and develop yourself.
You can visit the project on GitHub.
Introduction
This School Journal Listening Post is a PHP developed version which is designed to run a lot more dynamically than earlier versions found around the web. This particular version has been developed from a prior version using the audio files and journal covers assembled by Frank Lewthwaite and Plugged-In in 2009. These files are Copyright to the Crown, not to Plugged-In.co.nz. Plugged-In.co.nz has since been dis-established.
NB: No copyright material has been taken from Plugged-In.co.nz in this project, though as a developer, I do want to make some recognition into Mr. Lewthwaite's hard work and dedication to setting up his version for New Zealand Schools.
The School I work for has a creative common's policy on all work carried out by teachers it employs. This project was initially developed for use by the school only. However, due to increasing interest in the project, I have made this project open source on GitHub for you to use at your school.
All Audio files and cover artworks are Copyright © Crown, under the Ministry of Education. More information can be found here: http://literacyonline.tki.org.nz/Literacy-Online/Teacher-needs/Instructional-Series/School-Journal/Audio-files
PHP developed by Al Ingham. www.alingham.com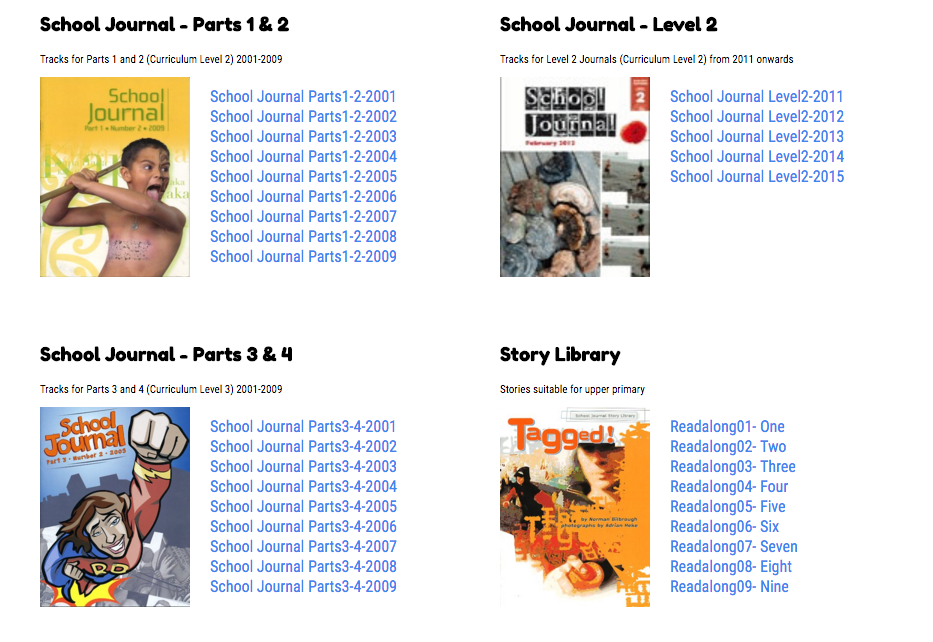 How to Use
You will need:
Web server – with at least 2.1Gb
PHP enabled
FTP client
Download the repository to your desktop or desired location. This will be a large download (2.1Gb) given the number of audio files on hand.
Open the .zip file and move contents to desired local location.
Using your FTP client, upload the files from the local location to the desired server location.
Visit your server location to check that it works!
Please feel free to use this for your school, on your school website, for use by New Zealand School students. If there are any issues with your installation, please do not ask for support. I'm a full time primary school teacher and will not have time to offer the countless support requests that may turn up.
I will endeavour to update the project as I find fixes to bugs, and as new recordings / journals come along.
Please feel free to join this project if you would like to continue to develop it and add to it as time goes by.