Reading Recovery Outdated?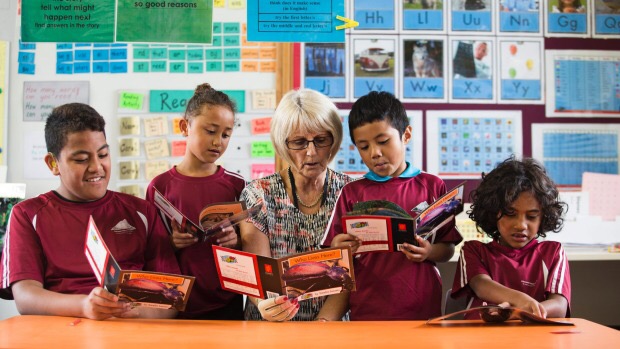 Change seems to be addictive in today's culture. We always want the latest and greatest, and tend to shun anything that is deemed too old. We strip back perfectly good wallpaper, desire the latest iDevice even though our current one is more than adequate, and as for the latest fashion trends – well we all know they go in circles.
It's somewhat controversial news that Reading Recovery is supposedly outdated; though I'm not sure why.
Maybe it's because it's a well established teaching programme in our country now.
Maybe it's because so much money is poured into it.
Maybe it's because one to one teaching is the most ideal scenario.
Maybe it's because our reading recovery teacher is bordering on the perfect definition of "legendary" and "awesome" combined in one.
I therefore am not going to debate the issue of whether reading recovery is outdated, or whether groups of five or six is better, as is outlined in the Quick60 programme.
It's a Numbers game
When we look at these two programmes, they have one thing in common.
They both have a small teacher to student ratio, allowing the teacher to offer quality, focussed, and individualised teaching for the students.
They allow for targeted learning, often to address specific needs of each child.
As we move further into the 21st Century, there seems to be an ever increasing demand to address all the different needs in the class, to meet each individual need, and to provide differentiated learning based on all of those needs. National Standards has all centred around where the individual child lines up against the whole country, and individualised testing and assessment has proven to be far more accurate, or understanding, about each child.
Yet at the same time, teachers (and some parents) continue to fight the direction of the government to raise class sizes up to phenomenal levels based on whatever research they can get their hands on that supports their agenda.
Add to this the ever increasing number of special needs requirements within the class, and you start to get the picture of a classroom teacher who is going to find it hard to individually meet the needs of their class.
And so this is why programmes like Reading Recovery and Quick60 thrive. It's learning at its most ideal level. It addresses the needs in front of them. It's focussed. It's individualised. It's differentiated.
And that is why it works; regardless of how much progress is made by those students. A teacher can only do so much; at some point the student will reach the point where their potential and their obstacles meet. They will require more than just a teacher, and more than just 6 hours a day, for some of those obstacles to be removed. It takes a concerted effort of all involved; the school, the parents, and the child, to overcome these and continue to make progress.
I don't believe we can label and programme a failure or "outdated" purely based on any kind of results or lack of achievement when they're are obviously so many factors which contribute to it.
Edit: Some background information
I did some "on-the-ground" research of my own.
Turns out, Massey do this at nearly every opportunity. You see; back in the late 70's, early 80's, when applying to the Government for the tender of a nationwide literacy programme from the Government for funding, the powers that be decided to go with University of Auckland's "Reading Recovery" programme by Marie Clay.
You see, another university also applied for the funding for a nationwide programme. You guessed it: Massey University.
The bitter rivalry continues through to today; some thirty years later. Take a look at these recent articles, all quoting comments, research, and articles by Massey University professors, in particular Professor James Chapman, who is cited on numerous occasions.
When pieces of research are conducted under such circumstances, it is hard not to see that they are under the duress of bias, and need to be somewhat disregarded, given that they are looking for the failings of Reading Recovery, rather than conducting independent and unbiased research.