Gold medals for all
Global (Bulk) Funding
In the weekend just been, I caught up with Ms Parata's latest palava regarding schooling and in particular, the funding of it. Needless to say, there was lots of conjecture, and I found it hard (yet again) to agree with much of what she has to say.
Olympics
At the same time, we saw the wind down of the 31st Olympiad in Rio De Janerio. I was able to make some links between the two. I've tried to get my head around the idea of what success is, and what it looks like; both in education, as well as in life, and using the Olympics as a starting point On what success looks like for New Zealanders.
Assessment
Ms. Parata signalled the intention to have a never-ending assessment system throughout every year of a child's schooling, so that we can track and monitor student achievement, and thus be able to allocate funding more accurately to children who need it as soon as we begin seeing them to fall behind.
But how robust are these assessment systems? The National Standards are full of holes and have long been criticised for their lack of National moderation and lack of Standard measurement. Yet, as we know, the Government continues to set the expectation that 85% of students will be At or Above their corresponding level across the country according to those National Standards.
To University and Beyond
In her statements, Hekia also mentioned that the aspiration for her assessment and data driven school system is to monitor students at each and every level so that they can go on to finish school, go to university and get employed.
I have a series of problems with this.
Don't get me wrong; University definitely expanded my worldview, my knowledge and skills as an artist, as a photographer, and as a teacher. I met my wife at University.
However, my personal view on this point is that if everyone has a degree, then that degree becomes less valuable, or even meaningless. The more people that get it, the less rare it is, and the more people are expected to get it or achieve it, and therefore starts on a never ending downward spiral in worth or value. Even take, for example, the status a Ph D. It still holds a lot of value because it's a whole heap of hard work and not everyone can achieve that level of study or knowledge. If they started handing out Ph D's to any Joe Bloggs who shows up, then the value of it decreases.
The Value of Gold
Much like at the Olympics, if we were to hand out gold medals to all who attended, then the value, the meaning, and the hard work that is represented in the gold medal would become completely meaningless. Gold medals become worthless, and suddenly don't mean anything to anyone. They may as well be medals for participation.
The New Zealand Olympic committee seemed to have a more realistic view on success rates. At no point did they expect everyone to get a Gold medal. In fact, some weren't expected to medal at all. Some achieved that Gold medal who were expected to achieve it (Bond & Murray, Drysdale, Burling & Tuke, Carrington). Some missed out who we expected to get it (Adams, All Black Sevens), but we certainly don't see them as failures. We also had some athletes get medals with non-gold shades on them who we expected to do so (Ko, Willis). And then we had others who we never expected to medal, but who shone on the world stage to get a medal around their necks (Walsh, McCartney, Rooney).
There's more to Education
Like I say; don't get me wrong; University is great and is a huge expectation and motivator for many of our students. The high expectations of teachers these days assist students to surge on to extend their learning at university; and somehow we manage to correlate this with success.
However, that's not a good picture to paint, especially if you look at the employment depletion in the area of trades. You see; some students might not be wired to go on to university. Some students would and will make great road workers, builders, plumbers and electricians without having to attend University. Some students show great natural talent in sports and university simply gets in the way of them making the most of their younger fit years. Are they any less successful, just because they don't go on to university?
No.
So why are we making university the be-all-and-end-all of our education system? Surely it should be aimed towards making each student the best they can be to make the most of what is before them and give them the skills they need to be successful in life, regardless of what that life may be?
Failure or Success?
What's more, just because you go to university it does not mean you will succeed. I know of many people who have got a degree and haven't been able to use it to gain employment at multi national companies making lots of money or otherwise being deemed as successful. They've ended up pushing trollies at the local New World, or working retail on the city mall.
In addition to this, I know of cases where folk who have never set foot in university are having an incredibly successful life. My brother is one of them. Never been to University. Got a job pumping petrol for a year while he studied automotive electrical at polytechnic, and at 26 was owner operator of his own workshop in that industry. In more, seemingly substantial terms, the likes of Steve Jobs, Richard Branson, Mark Zuckerberg, and Bill Gates all dropped out of University. One could not say that these people were not successful.
Success Never Looked So Good
Nikki Hamblin made international headlines these Olympics, not because she won a race or achieved a Gold Medal in her time at Rio, but because she stopped and assisted an injured runner who had toppled over Nikki only moments earlier. Both runners finished stone cold last. No medal. No glory. But both women went on to achieve sporting greatness and success in a different way – in Olympic spirit (as opposed to worldwide trending – just type Nikki into Google and see what shows up!
).
Likewise, take the story of nineteen year old Eliza McCartney, who against all odds, found herself in medal contention with a few jumps remaining. In the following moments, the look of success, the sense of achievement could not be hidden from McCartney's face as she took out the Bronze medal.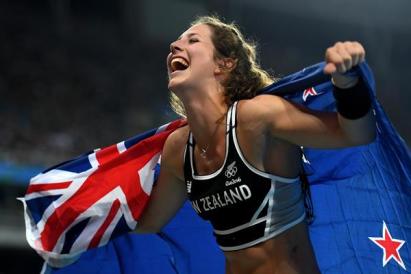 A massive achievement for the 19 year-old, and a successful Olympic campaign, even though it wasn't a gold medal.
Success at the Olympics is not just about getting a gold medal. It's about so much more than that. Likewise, being successful in education isn't just about heading off to university after you've finished high-school.
In Conclusion
We need to broaden our definition of what we consider success. I've said it all before. This continuing narrow view that all students should go to University as a measure of success is stifling the entire education system of this country as we measure and measure again the weight of the pig at every opportunity. To use an Olympic analogy; a runner, rower, pole-vaulter won't get any better by continually going for personal bests and trying to set records. Strength training, fitness, endurance, mental coaching, and more is needed for any athlete to perform at their best when it matters – on the world stage, at the Olympics.
Students need to see that they can be successful in life without that pressure of having to go to University. Going to polytechnic, learning a trade, or even going to work in retail can all be successful pursuits in life. Let us not forget, that just because the All Blacks were not at the Olympics, doesn't mean they are not the world champions who can embarrass Australia given the other sporting event on this weekend just been. We can hardly call them failures just because they do not have a Gold medal around their necks.