Updating the Education Act 1989
Earlier this month, the Minister released a public document surrounding the public having their say on the updates this government are wanting to make to the Education Act. In it, they outline what they need to do to change the landscape of the education sector in this country. It is worded in an incredibly positive way, and they have been more than inclusive by ensuring the use of the word "may" throughout the document (which is at least an improvement on how they made changes with National Standards, Class Sizes, Christchurch School Closures, and Novopay!) However, there are some issues within it. Quite concerning things, that if passed, will allow for a lot of changes that we may or may not be interested in, but our chance to have a say will have gone. I've gone through and highlighted some of these things to hopefully shed some light on what is really being said.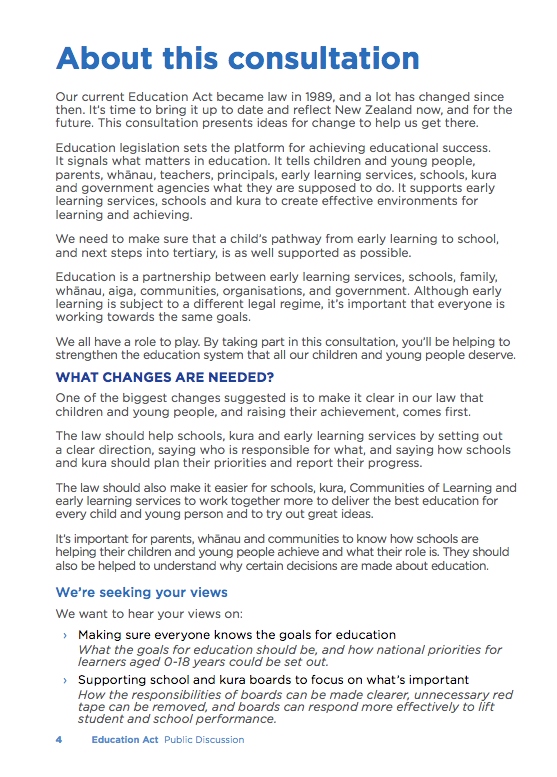 Achievement and Accountability
The Education Act changes all centre around supposed "child's pathway" through school, and focuses on "raising their achievement". While a growth mindset is healthy for every classroom, at some point, there is a ceiling on what can be achieved. By having a law written that says that raising achievement levels is paramount, it means that there could be issues if a child HAS achieved, or schools already raise the achievement levels beyond any reasonable expectation. As will be an issue that comes up all through this, there is the ongoing issue around how this is measured. No doubt the Government will rely on data gathered through National Standards reporting, yet we already know that this is clunky at the best of times. In the seventh paragraph, the changes suggest that it will outline in law 'who is responsible for what'. This seeks to allow the government to lay blame on individuals should things not go to plan. This may be a board, a principal, or a teacher. Of course, they are also quite clear that any submissions that suggest changes that would increase government spending on education will not be considered. Quite clearly the government thinks that it is already doing enough in this regard.
IMPROVING THE WAY BOARDS PLAN AND REPORT
Improvements can be made to the way school and kura boards plan and report on how they make sure the right things are being taught, how they are informing parents, whānau and communities about what they are doing, and how well children and young people are achieving.
Red tape around planning and reporting could be reduced so that boards are able to focus on what is important in promoting student achievement and wellbeing. There are some things that are a 'must do' for boards, such as developing a strategic plan, providing annual performance information, and meeting statutory reporting requirements. But there are other requirements that could be removed, and some complexity could be reduced. For example, high performing schools could move to a four-year planning cycle.
It may also be useful to let groups of schools and kura work together when they are planning and reporting. This would help a community plan more cohesively, share expertise and reduce administration. It could particularly benefit Communities of Learning and small or isolated schools and kura.
In Other Words…
In this section, it mentions 'red tape' which is very vague in what it means. Essentially, I think, they want to get rid of some of the bureaucracy that gets in the way from making decision and making changes. But as always, they label this as a way for Boards to focus on other things, such as improving student achievement. In the example, they state that 'high-performing schools could move to a four-year planning cycle'. By "high-performing", we can assume that they mean "high-achieving". In the following paragraph, it says that it 'may also be useful to let groups of schools and kura work together…' making reference to their Communities of Schools model. We can safely assume that the word 'let' could also be taken to mean "make", especially when schools are 'not achieving'.
RESPONDING MORE EFFECTIVELY TO PERFORMANCE
With better and more timely information, parents, whānau and communities can have an active role in helping to improve achievement for their children and young people. The Act could allow for a set of indicators to be established so schools and kura know what areas they need to report on.
For example how well students are doing, and how the school or kura is managing its money.
The Update could enable schools, kura and Communities of Learning that are doing well to get more freedom and extra decision-making rights. This would be balanced by monitoring schools, kura and Communities of Learning carefully and clearly saying what will happen if things go off track.
Responding More Effectively to Performance
Firstly, what does performance mean? No doubt, when the Ministry talks about performance, they mean achievement. Regardless of "better or more timely information", parents, whanau, and the wider community can all have an active role in a child's education. It does not have to be made into law through the Education act. It's called parenting. It's called raising children. It's called childhood. A set of indicators that the change proposes are either National Standards, or a new set of KPI for schools. The suggested example of "how well students are doing" jumps up and screams "League Tables", seeing as this is talking about reporting to parents and the community. This is public information that will be out there for everyone to see and compare, even though there is no doubt that these KPI will not show the value and worth of a school. This section goes on to include the Communities of Schools who do well will get more freedom – rewarding the "high achieving" schools once again, with more decision making rights. It then makes it clear that, in balance, poor performing schools would have such rights taken away and decisions would be made for you "if things go off track". Which is exactly what we want as a school who's students' struggle, we definitely need an outsider coming in with a top down approach of "you will do better"; tongue firmly in cheek.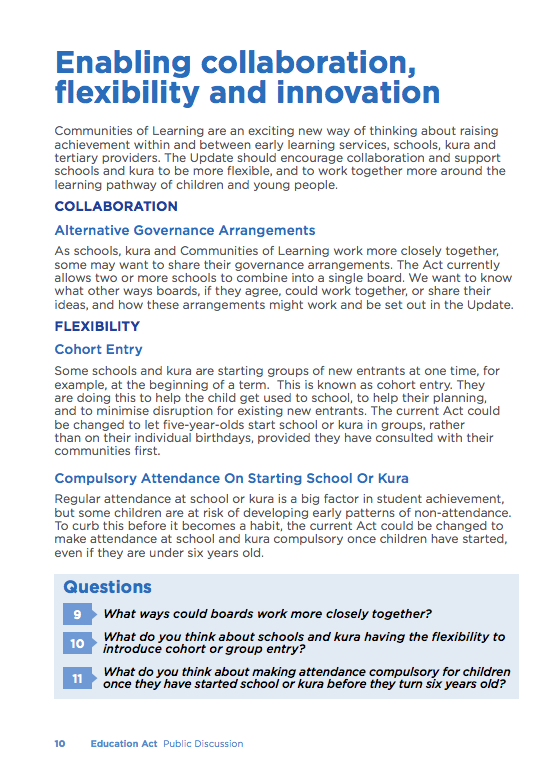 Enabling Collaboration, Flexibility and Innovation
This pare of the document just looks at the idea of Communities of Schools that the government has brought about through the IES. Under Alternative Governance Arrangements, they state that some schools who are working in a Community of Schools, "…may want to share their governance arrangements". This is already happening with the property side of funding in some areas. Also, as is with earlier parts of this document, where it says "may want to", it is also saying that some schools "may be forced to" share their governance. In terms of flexibility, it is interesting that the only reason why schools would be wanting to have different intakes at different parts of the year is largely to make National Standards reporting easier in Years 1 to 3. Their anniversary reports would all be at once, rather than spotted throughout the year, and it would tie in with the senior reports a lot more often. The question really is, is if your child misses out by a few weeks for the intake, they might essentially miss out on 3-6 months of schooling. What's more, if a school down the road isn't having intakes at set times, that family may decide to take their child elsewhere. Isn't it already compulsory for children to attend school? What's more, how is the Ministry going to enforce this, especially when funding for truancy officers has been cut, and the Government doesn't want to spend any more on education? No doubt it will be one more thing that schools will have to chase up on in their own time.
What is a "great" school?
What makes a school great?
How is this measured?
There is no question, given the rest of this document, what the Minister sees as a "great school". High achievement.
But the word "Great" or "Greatness" surely encompasses so much more than this?
Take for instance a local school in my area. A well recognised and renowned school, with parents and whanau driving from up to ten minutes away to send their child there. It is a decile 8 school and has about 330 students on its roll. 75% NZ/European and 17% Maori. Their ERO cycle is on a four to five year review. From the latest review it states that "Most students are achieving at or above the National Standards in reading, writing and mathematics."
One would say this is a great school.
At the school I currently work at, the same can't be said. We are about half the size, and fit in a decile 2 bracket. We have about 60% Maori students, 10% Pasifika and 20% NZ/European. We recently managed to scrape through and get a three year ERO review, which we celebrated like we just won the Rugby World Cup. Half of our students are below or well below the National Standard across all three areas.
However, this year, both these two schools had their 50th Jubilee. Both of them started in 1965, the same time that Porirua officially became a city.
At our school, we had close to 180 ex-students come and celebrate over the course of Labour Weekend, 2015. Old students came from all around the country, from Auckland to Timaru. We even had some fly in from overseas to come and visit their old primary school. We had a school gala which had cars parked along the street as far as the eye could see. The atmosphere was buzzing and our school was the centre of it all.
In stark comparison, the other school had to cancel it's celebrations due to lack of interest.
I leave you with that question to ponder. Which is the greater school?
Making every school and kura a great one
Every school and every kura has to be a great one, and while most are doing well, a small number need more help to get there. Some more options could be put in the Act to help schools and kura get back on track. These could include an improvement notice, or an audit of one part of a school or kura. At the more serious end, a board could be asked to have different people on it.
Naughty, Naughty!
In this section, the Act turns its attention to the so-called 'off track' schools. The Ministry will help them get 'back on track', through the use of an "improvement notice" (similar to an infringement notice, I guess) or an audit (ERO visit). The serious end, the Ministry can remove a board if a school is REALLY 'off track', and no doubt choose (or appoint) the representatives on it.
Creating a Set of Guiding Principles for Opening, Merging and Closing Schools.
What an interesting thing to amend within the Education Act. I wonder why this could have occurred? Maybe the Minister had too much trouble closing schools in Christchurch. Maybe she also had some difficulty merging some schools. And maybe they want to be able to open up new charter schools whenever they like. It has also made the provision for students to be forced to go to certain schools, and force certain schools to take certain students.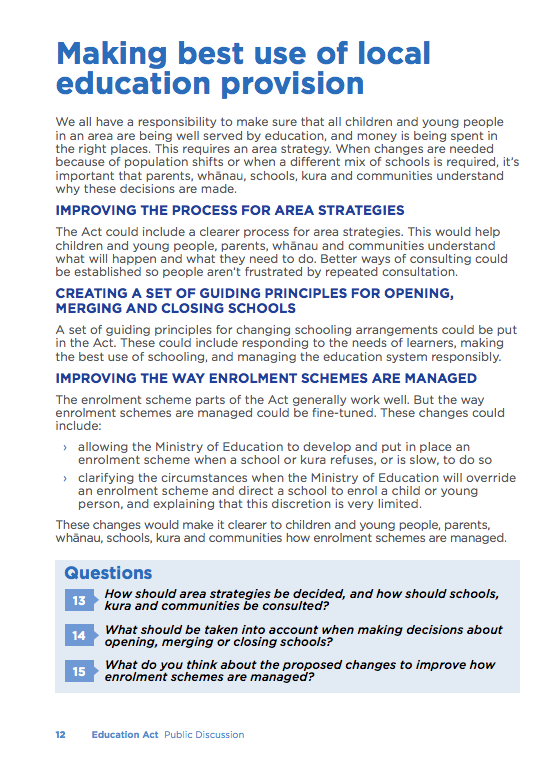 In Conclusion…
It is interesting the timing around this change. Reports are due, schools are winding down, half of the secondary schools are gone with exams, principals are drowned in end of year rollover for Novapay, and end of year activities. So it is unlikely that those who are working in the sector will have time or energy to fight the changes being proposed.
No doubt we need to though, if we are unhappy with the proposed changes.
Below are the details for how YOU can make a submission in answering the questions within the document.
You need to do this. Answer, respond, challenge, debate. Talk over your ideas. The more responses they get, the more they might listen.
Related Readings
An easy way to make your submission is online at consultation.education.govt.nz. Here you will find an introductory video from Education Minister Hon Hekia Parata. There are questions to get you started, or you can upload a submission from your computer. You can also email your submission to education.update@education.govt.nz or write to: Education Act Update Ministry of Education PO Box 1666 Wellington 6140 New Zealand Submissions close on Monday 14 December 2015.
PERSONAL INFORMATION AND CONFIDENTIALITY
Submissions and documents associated with the consultation process meet the definition of official information and are therefore subject to the Official Information Act 1982. Please clearly indicate in your submission if you do not want your name to be included in any summary of submissions that we may publish.
FURTHER INFORMATION
If you have any questions about making a submission, or would like more information about the update of the Education Act 1989, please email education.update@education.govt.nz