Assessment Assessment Assessment
In the current education climate, teachers are finding themselves with the responsibility of making OTJ's (Overall Teacher Judgements) to report to parents about their child's academic achievements, but the requirement to have evidence for these judgements. These are rarely school imposed, but instead come from the likes of the Ministry of Education or ERO, who continually ask "How do you know that?" type questions in relation to National Standards data, with schools only being able to say "because of the test results" as a viable and measurable response. Therefore schools are asking teachers to assess their students using a range of different school-set assessments.
When I think of assessment, I usually can't get pass the first three letters. It's tedious, a bore, and whilst I enjoy analysing data from them, they are generally a waste of time when I consider what I could be doing – working alongside students, engaging with them, insipring them, and unleashing them.
Chris Hipkins wrote an interesting post about Kiwi kids being over tested. He says:
"Kiwi kids are being over-tested in schools… Let's get teachers actually teaching, rather than testing to meet 'reporting' requirements. Kids deserve nothing less."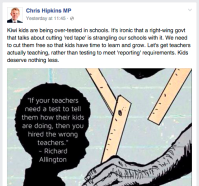 It has been an issue I've noticed increasingly in my career. Whether it's because I'm male, or because it's genuinely difficult to do, I find that to test the entire class, I have to shut down the learning programme and go into 'Assessment Mode'. I find I don't do any actual "Teaching" during this time, more just provide suitable 'practise' type activities for students to work on independently while I repeat 1-on-1 testing. I can't do both 'assessment' and 'teaching' at the same time. As a school, we are now moving away from whole-class testing because it gives a very limited view of the student's abilities. But this means that more 1-on-1 testing is required. This can take 3 to 4 days to complete with a class of 28.
I wrote a reply to Chris's post that expressed my ideas:
"Thanks Chris for this! I'm a primary teacher and I'm constantly going into "assessment mode" to get through the entire class, that sometimes I wonder if I'm actually teaching them anything! By the time I've finished one lot of assessment, the next lot is on my desk!
I feel that if I were able to work constantly alongside my students; encourage, inform, correct, show, teach, and build genuine learning relationships with them that I'd have a much better understanding of them as individuals and thus understand what they need in their learning. Any assessment should only be to confirm what teachers already know about their students."
And that's just it. If teachers were given the trust that a) they deserve, and b) that is required to make OTJ's in the first place, then I'm sure that there would be better outcomes for all students. We are told constantly that teaching and learning is all about relationships, but I fail to see how sitting tests and being assessed builds any kind of meaningful learning relationship between student and teacher. Secondly – spending time working with these students and teaching them will only enhance my ability to make a judgement.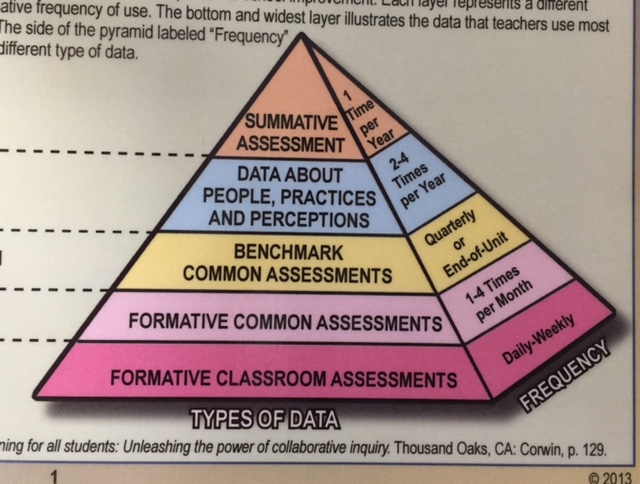 We are showed the assessment pyramid regularly in P.L.D (Professional Learning & Development), and it still staggers me that things remain the same. The assessment pyramid works a lot like the food pyramid, with the top tier representing assessment that, whilst is usable, should not make up the bulk of assessment used in the classroom. The bottom tier represents assessments like teacher observations, anecdotal notes, conversations, discussions, behaviours, troubles, problem solving, which should be use more frequently. Yet the rate of importance placed on assessments is opposite. Those that fit down the bottom of the pyramid which should happen daily and make up the majority of our assessment as teachers, is given the least importance, while those at the top which happen once or twice a year, are relied heavily on when schools are asked to "prove it" by Ministry or ERO officials.
Chris finished up his post by replying with a disclaimer that he in no way intends for there to be NO form of assessment, just that "…there is too much testing for 'compliance' rather than to genuinely inform the next steps in a child's learning.". And I wholeheartedly agree. If all we are doing is relying on test results, weighing the pig time and time again, it's not going to help the students. Further to this is the issues happening in education overseas.
Teachers in the U.S. have the common core to teach and to contend with where the success of the students in their class directly relates to their school image. What has ended up happening? Teachers preparing students for the test; not actually teaching them.
"My old Principal was so enamored by an awarded Title I school for bringing up test scores. Their formula? Test prep. We copied and plummeted." – @TeacherReality
It is highly tempting to give students practise at sitting tests, or answering similar questions over and over again, in order to boost their test score by being able to answer similar questions. But this in no way is why we became teachers. We didn't become teachers to give test-like questions, show helpful formulas to solve test-like problems, or show them practise tests to help them pass a 'real' one. No. We became teachers because we wanted to impart knowledge, to inspire and to encourage, to challenge and watch students struggle in the hope that one day, one day, they would be able to apply themselves in life and succeed.
As I write this, I find myself thinking; "I know all this, and say all this, but hypocritically find myself in class administering tests. Why!?". Well, mostly this is because of the school having certain requirements (from external or internal pressures) of the teachers, as most schools around the country will have. So what can be done? What can I do as a teacher?
These are genuine questions. I don't have the answers. I have the ideal – which is to make observations and notes the most important and reliable source of information about student learning available. It means teaching and working alongside students. And so I must do that. I must make that a priority. I won't be able to avoid the summative tests at all, but I can certainly try to maximise the time I do have to assess informally, and use these with more prominence than a one off test.
How do you manage the balance of testing vs. teaching? What restrictions are placed on you by school or external sources in terms of assessment? How do you deal with that? What suggestions do you have for others? Please leave your comments below.