The Collaborative Classroom
The Collaborative Classroom
Teaching environments and modern ways of reinventing knowledge.
The silent classroom is a thing of the past. Long days at your desk, all facing north, with the teacher's desk aligned in the opposite direction at the front have been relegated to the storage cupboard along with the typewriter and cassette tape.
Instead, the class is a buzz. Students, while individual and unique, are working together to achieve a common goal. The key competencies of 'Relating to Others' and 'Participating and Contributing' both get ticks in their boxes. Motivated by their own choice, students are inquiring into the affects of bees or lack thereof on the environment.
The Collaborative Classroom has come about to closely align with 'Modern Learning Environments (MLE), and seeks to align the physical aspects of the classroom environment with the collaborative philosophy of today's education standards. It is one thing to get students to work together, to have collaborative practises, to have a teamwork based curriculum, but if all the classroom isn't set up for students to work together, then they won't. Certain aspects of the 'Collaborative Classroom' leads students naturally to work together.
But with the environment there needs to be shifts in the teaching that allows students to work together, to search, struggle, challenge, and extend each other, and hopefully, grow a deeper understanding in the topic, their peers, and themselves. In essence, the teaching environment leads to modern ways of reinventing the way we acquire knowledge.
I do not think there are many modern day teachers who don't incorporate some collaborative tasks into their daily programme. We are constantly reminded of the value of strategies like 'Think, Pair, Share' and 'Reading Jigsaw'. Certainly, having recently gone through training college, the idea of 'group work' and collaboration are well ingrained in the pedagogy of how we were taught to teach.
Now there is a move to ensure that such activity is not only expected, it flourishes and happens naturally purely because of the classroom layout. As this Government rolls out a selection of funds for schools to 'modernise' their learning environments, the collaborative classroom is immediately considered as the way forward. Larger open spaces which are customisable are favoured for this, as different tasks require different needs.
1900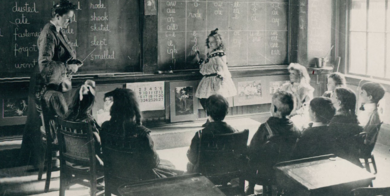 Working in groups is not a new thing. As we can see in this old classroom photo, whilst individual desks are set apart, all facing the front, we can see the children of the class in a circle, participating in a lesson. Everyone doing the same thing so that they all left school fitting in a particular box was the aim.
1990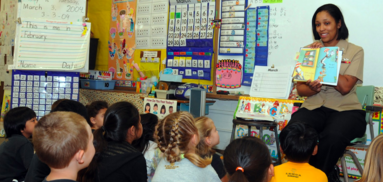 In the 1990's, desks were somewhat modernised, along with individual trays that have multiple uses. Large, often bulky 'personal computers' were all the range, and it wasn't uncommon for each class to have at least one that sat in a corner, just waiting to be played with during a wet lunch time, or if you were lucky, publish a piece of writing.
The introduction of a mat area also became popular, inviting students in closer to see details, but also participate in a lesson that was separate from the daily grind of staying in one place all the time. For the first time we see a dedicated wide open space in the classroom.
2000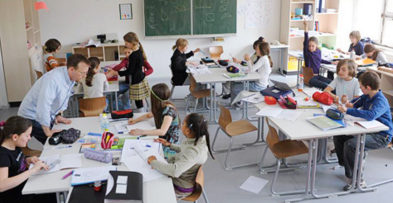 Enter the year 2000, turn of the century, and educators are looking for ways to encourage student talk, real life learning, and discourse in the classroom. But without a budget, schools had to use what they had. Individual desks were kept, but placed into groups. Each child would still have their belongings, but they would also be part of a group to work with, discuss ideas, and work together as a team.


It is around this time that the idea of a collaborative classroom came into play. Hubs of tables fill wide open space. The clutter is generally gone, but there is space for learning to happen. The walls are adorned with linked up screens that can be viewed from anywhere in the room.
Roles and Relationships
The role of both the student and the teacher has changed along with the physical space. In the 1900's, the role of the teacher was that of a preacher. The fount of knowledge to fill the empty minds of the students. Repetition, repetition, and repetition was the key to learning, and if you didn't get it first time, you'd keep doing it until you got it right.
Take this through to today, we have a teacher who is a facilitator for learning. They pose questions that challenge and encourage wonderment. They inspire and engage. Students are the driving force for learning. They pick up an idea and take it further in the direction they want to take it. They work together to co-construct their success criteria, and figure out the how themselves. They rely not on the teacher for information, but on their own ability to go and find out. They are both collaborative, but independent, and the balance of these happens seamlessly. In an article written well before it's time (1990), Tinzmann, MB et al. state that
"Effective communication and collaboration are essential to becoming a successful learner. It is primarily through dialogue and examining different perspectives that students become knowledgeable, strategic, self-determined, and empathetic. Moreover, involving students in real-world tasks and linking new information to prior knowledge requires effective communication and collaboration among teachers, students, and others."
The environment is only one part of the Collaborative Classroom. What is more important is the learning going on inside it. Rebecca Alber states:
"Learning, and higher-level learning such as synthesising information from several documents or analysing scientific data, can hit much deeper when done collaboratively. Let's not forget Lev Vygotsky and his educational theory that proposes learning as a social process. And if he were alive today, he would most likely agree with the saying, Two minds are better than one. He might even add, "Better yet, how about three or four?"   
It doesn't matter if you are stuck in a 1960's classroom with cupboards and storage, old flip-top lidded desks, and steel framed chairs; the way you go about teaching (or facilitating learning) is key.
Is it any wonder then why the subtitle of this article spells out Teamwork with each first letter?
Related Reading
Tinzmann, MB et al. "What is the collaborative classroom."

Proceedings of NCREL

(1990).

"Deeper Learning: A Collaborative Classroom Is Key | Edutopia." 2012. 29 Sep. 2015

http://www.edutopia.org/blog/deeper-learning-collaboration-key-rebecca-alber